Basic Info
Model No.: Inspection service
Product Description
We are professional, reliable and quick action for servicing to you.
-quality assurance
- safety check
- functional check
- Competitive price
- Comprehensive reports
- Send report within 24h
IQS Inspection scope: We could arrange different types of inspectionsaccording to your specific requirements. Such as: Toys, furniture, gifts, Garments, textile products, Homeappliances, Mechanical items, machinery, etc.
Fabric inspection is a tool for satisfyinginternal as well as external customer. External customer can benefit by gettingthe products as per the specification provided while internal customer benefitby knowing the reason for any down-gradation and can thus correct the same.Fabric inspection also mirrors the packing percentage and associated valuelosses due to down-gradation. There are many inspection systems and of themfour point inspection system has got wide acceptance and is followed globallyby fabric and garment manufactures. Fabrics have certain desirablecharacteristics depending on end use. Various defects in the fabric either marthe appearance or adversely affect some of these desired characteristics. Thusfabric produced must be inspected before releasing it for dispatch so that theproper quality goods reach the customers.
Ifyou have any inspection inquiry in China. Please contact me without anyhesitation. We will provide you our best services and competitive rate.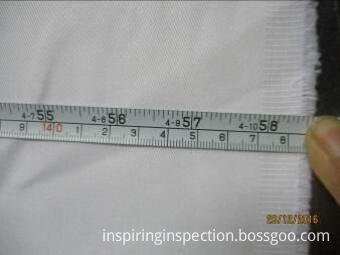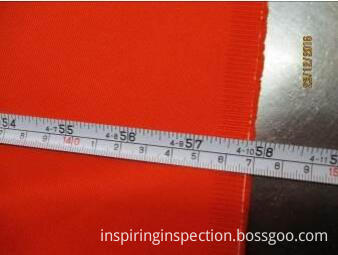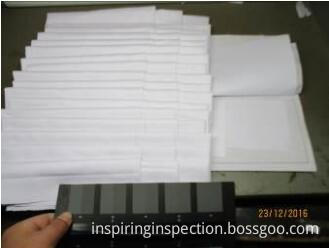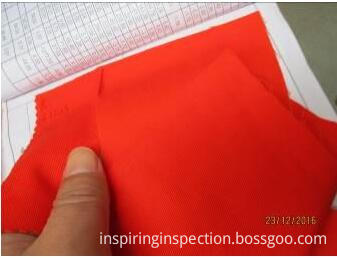 Our company –CNTAC Testing Center Group is an central enterprises , Inspiring inspection is an independent, third-party inspection department in CNTAC Testing Center Group, with operational HQ in Shenzhen China,focusing on consumer product QC inspections,also factory and social/ethical audits in China and some Asia Countries.Even our company have Chinese background but all the staff are work in this industry more than 5 years at least, who worked in SGS, TUV, ITS AI... before.Inspiring Inspection international management staff have worked both at field and operation management levels for over 15 years with international lab testing(our Lab testing cooperating with AATCC & ASTM, SDC,SDLATLAS.James H.Heal.x-rite.Datacolor.) and third-party inspection companies. Inspiring inspection management and operations-teams,understand both the Chinese culture, and international buyers,expectations.We employ an ever expanding team of 260+ highly dedicated and experienced inspectors and auditors within China alone. Inspiring Inspection train inspectors to spend as much time as possible on-site to perform thorough and accurate inspections/audits. Operation area is Mainland China, Taiwan, Vietnam, Bangladesh, India...Our main services are: Quality Control Inspections• Initial Production Check (IPC)• During Production Inspection (DUPRO)• Pre-shipment Inspection (PSI)• Container Loading Check (CLC)• Production Monitoring (PM)• Random Product Sampling (SAMPLING)Auditing• Factory Evaluation (FE)• ISO9000-based Factory Audit (FA)• SA8000/ETI-based Social Audit (SA)Lab Testing • RoHS• REACH• EN71:1-2-3• UL• CE
Company Name: CNTAC Testing Center Inspiring Inspection Service
Representative: 伏广伟
Product/Service: Quality Control , Consumer Product QC Inspections , 3Rd Party Inspection , Commodity Quality Check , Lab Testing , FA/SA/FE
Capital (Million US $): 1000000RMB
Year Established: 2006
Contact Person: Ms. Summer Long
Tel: 86-755-27209535